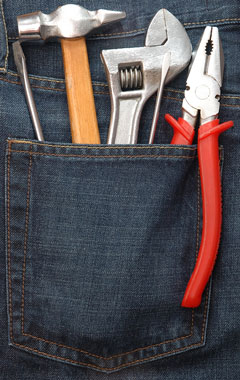 In order to complete basic tasks around the house, you don't need to buy the fanciest tools, or the most expensive. Instead, it is best to concentrate on acquiring the tools you need to do the job.

It's easy to add tools to your collection slowly. If you are just starting out, the basics such as a hammer, a wrench, and a set of screwdrivers should suffice for doing occasional small jobs around the house. As you become more comfortable with tools and begin to use them more frequently, you can add those that you need to your collection. A good idea is to acquire them as you need them, on a project-by-project basis.

When buying tools, make sure you take some important considerations into account. First of all, decide which tasks you need to perform with your tools. You'll also want to determine how often you plan to use them. If you are using your tools only occasionally, a set of inexpensive, basic tools will do. But if you plan to use your tools frequently, it might make sense to upgrade and spend a little more.

For those just looking to do the basics like hanging blinds, putting up some shelves, or opening a paint can, your toolbox should include small and medium sized Phillips head screwdrivers, small and medium sized slotted head screwdrivers, adjustable wrenches in two sizes, and a pair of pliers. You will also need a claw hammer, a putty knife, and a utility knife as well as a tape measure, a level, and a cordless drill with drill bits. Round out your tool set with a file, a flashlight, and some all-purpose duct tape.

If you want to go beyond simple home maintenance, you'll want to do a little research to determine which tools best fit your needs. For example, people who are interested in doing construction work will have different tool requirements than plumbers. Tradesmen who are doing electrical work will require different tools than machinists and metal workers.

Your hardware store or home improvement center can help you decide which tools are best for you, as well as how much it makes sense for you to spend. The best tools are those that fit your personal requirements!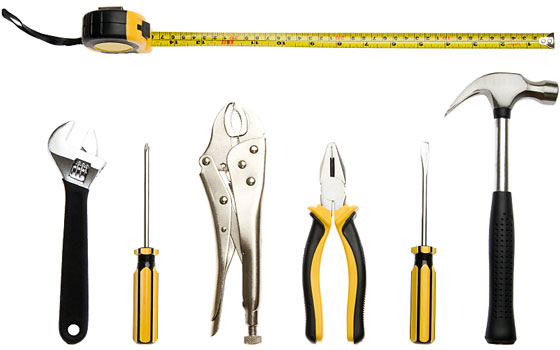 ---
Copyright © Zeducorp.
All rights reserved.

Basic Hand Tools and Power Tools